First step: A sport for everyone
Bouldering consists in climbing without a rope, on a wall up to 4.5 metres high, with padded mats beneath climbers to absorb their falls.

Unlike route climbing, it can be practiced without a partner and in complete autonomy. Maniak accompanies you in your beginnings with a discovery session during your first visit.
Second step: what kind of coaching do I want?

Climbing is sometimes considered an extreme sport but actually involves very little risk.

Nevertheless, basic gestures are essential and must be mastered in order to evolve in complete safety.

3 choix s'offrent à vous pour apprendre ces gestes de base :
Initiation

Book a free 15-minute initiation. Upon arrival, simply pay your entrance fee and if necessary the equipment rental. Please specify at the reception you come for initiation. Once completed, you will be able to climb autonomously.
→ Duration : 15 min
→ Price : included in the entrance fee!
→ 6 pers. max.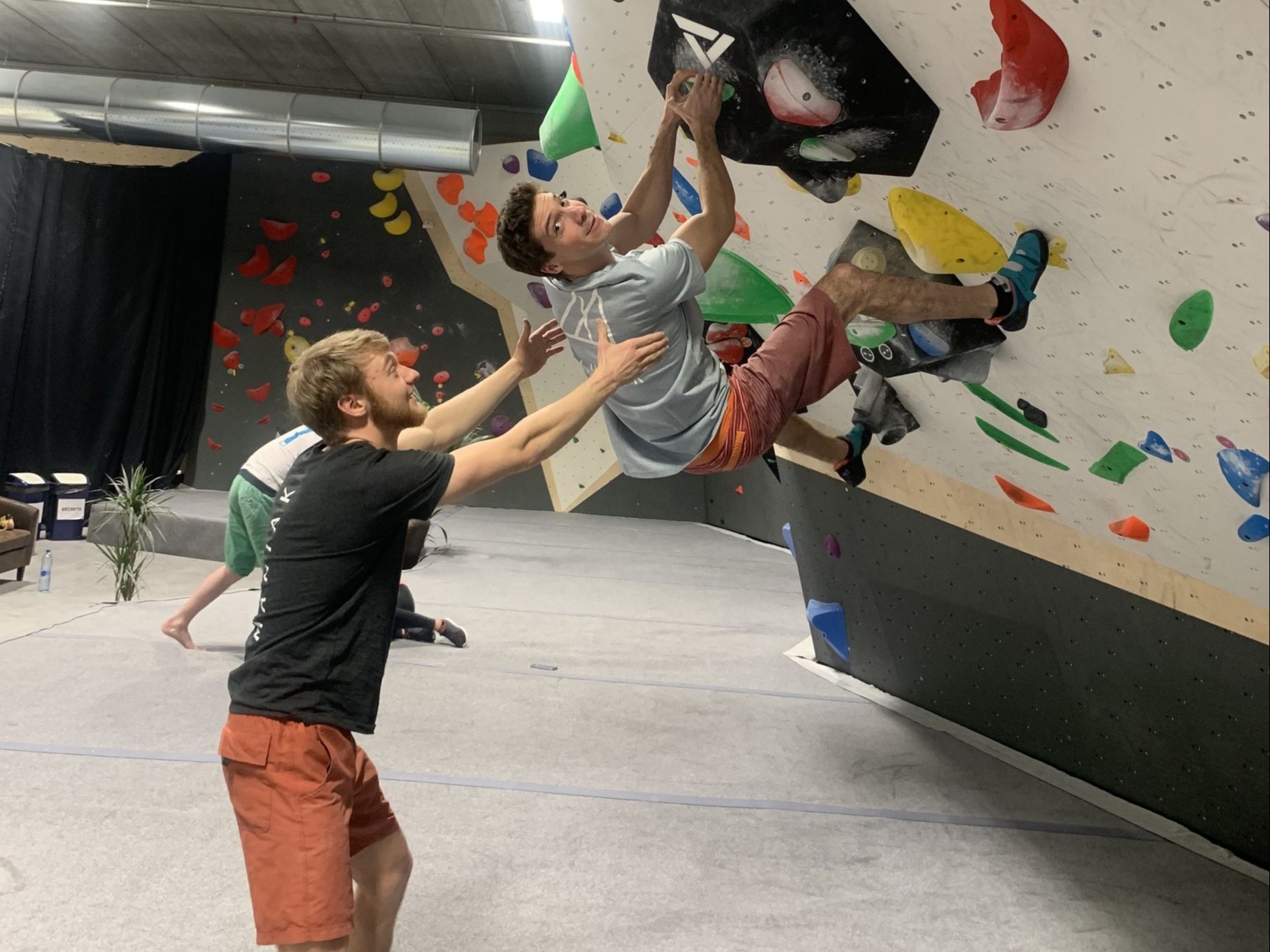 Private coaching
However, if you wish to be guided for your first steps in bouldering, book a private lesson. An instructor will be entirely dedicated to you. He will teach you the basics of the sport and the safety rules to follow.

→ Duration : 1 hour
→ Price: 40€ for 2 pers. (entrance and equipment not included)
→ 15€ / add. pers.
Autonomously
Unlike route climbing, bouldering can be practiced alone. You can climb and progress on your own. Take a session and meet other climbers for a sportive exchange moment.

→ Duration: no time limit
→ Prices: See gym's prices
→ Max. 12 pers.
Third step: come climbing
Get your sportswear on and grab your water bottle: you can now get started!

Upon your arrival, we will create you a customer file; you will then be able to accrue loyalty points.

Pay the entrance fee, rent the equipment if necessary and above all, enjoy your session!

A few boulder rules

Peut-on prendre une impulsion sur le sol pour démarrer un bloc ? Peut-on s'aider d'une paroi lisse ? Tous ces détails ne sont pas toujours intuitifs 😅
Notre chef ouvreur Manu nous explique quelques règles du bloc.
Après avoir vu cette vidéo, vous ne douterez plus sur la manière de bien commencer un bloc 😊


DISCOVER THE REST OF THE GYM
Would you like an overview of the infrastructures?